Complete Story

10/11/2019
018 Emotional Intelligence for Sales Success
Presenter: Colleen Stanley
Date: Monday, March 9, 2020

Time: 8:00-11:30 am

Level of Complexity: intermediate
Course Description: Emotionally intelligent salespeople are great at building relationships, handling pressure and bouncing back from setbacks and failures. When meeting with challenging prospects and customers, emotions often start running the sales meeting rather than effective selling and influence skills. Participants will learn key emotional intelligence skills that produce hard sales results. Skills such as such as emotion management, self-awareness, empathy, assertiveness, delayed gratification and stress management.
Learning Objectives:
Learn the neuroscience of emotional intelligence and avoid fight or flight responses during challenging sales conversations
Discover how to sell to the real buyer in any selling scenario, the prospect's 'reptilian brain'
Discover how underdeveloped emotional intelligence skills affective a salesperson's ability to consistently execute the right selling behaviors
Improve a salesperson's ability to read the emotional temperature of prospects and customers. Stop missing the meeting after the meeting.
Develop soft skills that build resiliency, accountability and sustainable sales results.
Colleen is president and founder of SalesLeadership a sales development firm. She is the author of Emotional Intelligence For Sales Success, now published in six languages. Her newest book, Emotional Intelligence For Sales Leadership, will be published in May, 2020, by Harper Collins.
---
Bookstore
Skip Weisman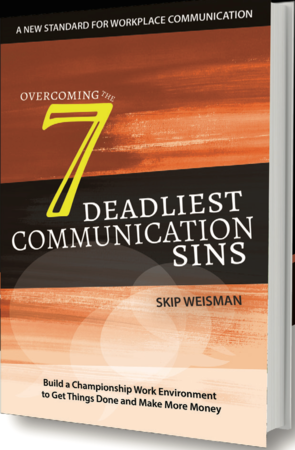 Communication is the cause of every success, failure and frustration. Don't you think it's vital to get it right? Just because we've been communicating since we were in our mother's wombs you think you know how to communicate.
This book will show you where you're getting it right and where you're missing the mark. You will learn the seven most common and most damaging communication mistakes that lead to endless workplace drama, toxic work environments, low accountability, poor attitudes and poor performance individually and organizationally. These communication mistakes are at the core of your employee retention issues, if you are struggling with them in this low unemployment economy.