Complete Story

10/11/2019
014 The Quick Learning Guide to Human Resources for Every Manager
Presenter: Pam Krivda
Date: Sunday, March 8, 2020

Time: 1:00-4:30 pm

Level of Complexity: Foundational
Course Description: If you have responsibility for managing employees – whether you manage just one employee or the whole Human Resources function - this course provides nutshell coverage of what you need to know for effective employee management. We will cover leaves of absence, including family leave, disabilities, at-will employment, having critical conversations with an employee, discipline, documentation, termination, defense readiness, overtime requirements, performance management, and other subjects you need in your day-to-day work with your employees.
Learning Objectives:
Establish a comfort level in handling difficult and sensitive HR matters
Understand the different types of leave available to your employees
Be able to implement your "defense readiness" plan
Pam has a unique background in both employment/labor law and Human Resources, which has contributed to her now serving as both a partner at Taft and as Taft's own Chief Human Resources Officer. In her law practice, Pam represents and defends public and private employers in all aspects of employment and labor relations matters. She holds the distinction of being Board Certified by the Ohio State Bar Association as a Specialist in the practice of Labor and Employment law.
---
Bookstore
F. Barry Lawrence, Ph.D., Pradip Krishnadevarajan, Senthil Gunasekaran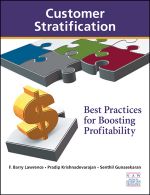 Best-in-class distributors categorize customers based on various factors, but customer stratification has long been an unexplored area for most distribution companies. Not anymore. At last, that gap is filled by this first-of-its-kind research study, Customer Stratification: Best Practices for Boosting Profitability.