Complete Story

10/11/2019
041 Personnel Productivity Improvement : Strategic Recruitment & Onboarding
Presenter: Kathryne Newton, Ph.D.
Date: Tuesday, March 10, 2020

Time: 1:00-4:30 pm

Level of Complexity: Intermediate
Course Description : You will learn how to take a "systems" viewpoint of the organization; learning tools to identify productivity gaps in your firm and working towards a balance for employee activities such as recruiting and hiring great people, onboarding and training, compensation and incentives, performance evaluation and employee development.
Learning Objectives:
Take a systems approach to productivity using employee-based management
Strategically plan for the future of your business using the knowledge of changes occurring now in the workforce
Effectively recruit and hire skills
Reevaluate and update your hiring practices to avoid turnover
Use job description and requirements to get the employees you need
Understand the basics of avoiding discrimination
Kathy is a Professor, Supply Chain and Sales Engineering Technology and Associate Dean for Graduate Programs and Faculty Success, Purdue Polytechnic Institute at Purdue University. She also serves as Advisor for the University of Innovative Distribution Executive Management Conference, appointed September, 2005.
---
Bookstore
F. Barry Lawrence, Ph.D., Pradip Krishnadevarajan, Senthil Gunasekaran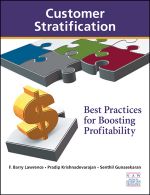 Best-in-class distributors categorize customers based on various factors, but customer stratification has long been an unexplored area for most distribution companies. Not anymore. At last, that gap is filled by this first-of-its-kind research study, Customer Stratification: Best Practices for Boosting Profitability.