Complete Story

10/11/2019
044 Distribution Marketing That Drives Sales Results
Presenter: Ian Heller
Date: Wednesday, March 11, 2020

Time: 8:00-11:30 am

Level of Complexity: Intermediate
Course Description: Professional marketers working in distribution companies often feel underappreciated, unempowered or even ignored by other departments like sales and finance. In many companies, the marketing department struggles to earn resources, find ways to add value and demonstrate measurable ongoing impact.
Learning Objectives:
Challenge your paradigms about distribution marketing
Tell you how to win over your counterparts in sales
Give you specific actions you can take to prove the value of marketing
Help you understand how your own decisions, actions and behaviors may need to change to achieve marketing success in a distribution company
Ian has been the President and COO of Modern Distribution Management since 2017. For more than 50 years, MDM has been a source of thought leadership, news and data for the wholesale distribution industry.
---
Bookstore
Pradip Krishnadevarajan, Senthil Gunasekaran, F. Barry Lawrence, Ph.D., Brijesh Rao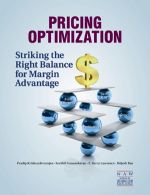 Forward-thinking wholesaler-distributors who strive for above-average returns in the "New Normal" by leveraging pricing optimization best practices that are rooted in sound analytics must read Pricing Optimization: Striking the Right Balance for Margin Advantage!