Complete Story

10/11/2019
017 Leading Relationships: Communication, Resolution, Accountability, & Performance (Full)
Presenter: Steve McClatchy
Date: Monday, March 9, 2020

Time: 8:00-11:30 am

Level of Complexity: Foundational
Course Description: The skills of communicating effectively, working with diverse multi-generational teams, setting expectations, giving and receiving feedback, gaining commitment, resolving conflict, and getting others to follow through can be the most important skills you will ever develop. In this course you will learn the keys to success in each of these areas and how to build relationships strong enough to handle the pressures and tensions inherent in creating, building, leading, and sustaining a fast-changing, high-performance organization.
Learning Objectives:
Effectively communicate, set expectations, drive results, resolve conflict, and hold others accountable in a way that doesn't damage trust
Defuse emotional situations to restore communication and deliver better customer service
Cultivate successful relationships across diverse multi-generational teams by taking ego and competition out of relationships
Coach, guide, and help others work more effectively together
Practice empathic listening to build more reliable, high-performance relationships and better customer loyalty.
Steve is a keynote speaker, workshop leader and author of the New York Times Bestseller Decide: Work Smarter, Reduce Your Stress & Lead by Example. Decide has enjoyed global success and has been translated into 10 languages including Chinese, Russian, Japanese, and Spanish. Steve has spoken before thousands of audiences on the topics of leadership, performance, personal growth, and work/life engagement.
---
Bookstore
Skip Weisman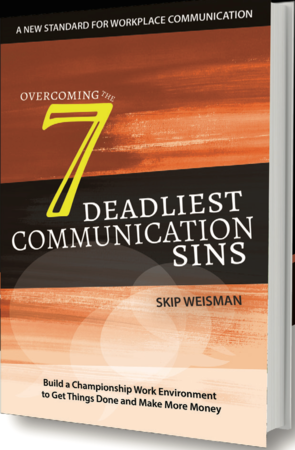 Communication is the cause of every success, failure and frustration. Don't you think it's vital to get it right? Just because we've been communicating since we were in our mother's wombs you think you know how to communicate.
This book will show you where you're getting it right and where you're missing the mark. You will learn the seven most common and most damaging communication mistakes that lead to endless workplace drama, toxic work environments, low accountability, poor attitudes and poor performance individually and organizationally. These communication mistakes are at the core of your employee retention issues, if you are struggling with them in this low unemployment economy.