Complete Story

10/11/2019
045 INNOVATE! How to Create Relevancy in the Age of Rapid Change
Presenter: Dirk Beveridge
Date: Wednesday, March 11, 2020

Time: 8:00-11:30 am

Level of Complexity: Intermediate
Course Description: Beveridge's research for the NAW's Institute for Distribution Excellence discovered that 76% of leaders throughout distribution believe we are living in an environment we could call the Age of Disruption. And in this age of disruption, 85% feel they need to reinvent their business before someone else does. But as you continue to operate the business for today, how can you unleash the spirit of innovation to build a relevant, stronger, and more profitable future? In this inspiring and research-based course, you will explore The Innovative Distributor™ framework that provides a practical model for creating transformative and innovative change.
Learning Objectives:
Construct a vision that becomes a unifying force for change
Develop a culture of innovation and excellence
Distinguish your business through an innovative value proposition
Examine your business model relevance
Identify your leadership readiness along the spectrum of distributors
Dirk is the leading advocate of change and innovation throughout wholesale distribution. He delivers a new voice, a new energy, and a new outlook. He founded UnleashWD in 2012 after he noticed the trend of innovation bypassing wholesalers and distributors. UnleashWD is now setting a bold agenda for the 300,000 distributors in the country.
---
Bookstore
Jaynie L Smith
Research Proves Customers Value More than Just Price
Relevant Selling, the sequel to best-seller, Creating Competitive Advantage, challenges the all-too-familiar price issue. Many companies lament that price pressure has destroyed their margins – but when customers are surveyed in dou­ble-blind studies, we learn that more than 90% of the time, price is not the most important buying factor. This book will teach you how to uncover what is relevant to your market and stop caving in on price. Without relevance, successful negotiation is seriously hindered. More than Just Price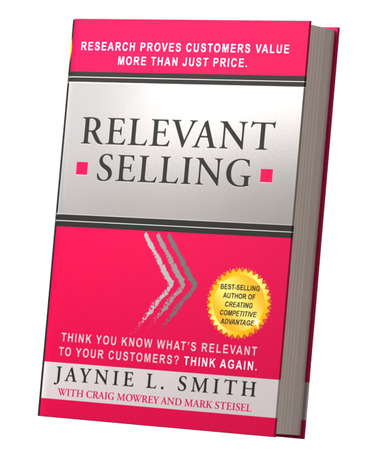 Differentiators are not competitive advantages if they are not relevant to the customer.
Companies must not only sell value, they must also sell what is specifically of value to the customer.
The majority of marketing and advertising efforts rely too heavily on creativity instead of relevance.
Relevant Selling shows you the importance of learning what is most relevant to your customers, your prospects and your different target markets, noting they almost always require tailored messaging to be relevant. You will learn how to obtain and use that valuable information.
Each chapter is loaded with actual case studies and research that demonstrates how companies achieve remarkable results when they sell what is relevant. Many companies are leaving profits on the table each day simply because they lack the research described in this book.

Buy Now