Complete Story

10/11/2019
051 AI, Marketplaces and Millennials: Handling Distribution Disruption
Presenter: Ian Heller
Date: Wednesday, March 11, 2020

Time: 1:00-4:30 pm

Level of Complexity: Advanced
Course Description: We'll investigate three, interrelated, macro trends that are fundamentally transforming the distribution marketplace, learn how they will affect individual firms, and explore how industry leaders should respond: The Rise of Millennials; The Rise of Artificial Intelligence; and The Rise of Marketplaces.
Learning Objectives:
Explore how marketplaces make money
Explain how risks evolve over time
Properly frame tough strategic decisions in a new competitive environment
Ian has been the President and COO of Modern Distribution Management since 2017. For more than 50 years, MDM has been a source of thought leadership, news and data for the wholesale distribution industry.
Previously, Ian served in executive roles in e-commerce and marketing at HD Supply - Construction and Industrial, Corporate Express, Newark Electronics, GE Capital Rail and Grainger. Ian was also the founder and Senior Partner at Real Results Marketing.
Ian holds an MBA from the Kellogg School of Management at Northwestern University.
---
Bookstore
Skip Weisman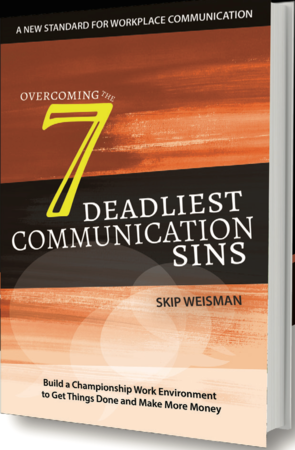 Communication is the cause of every success, failure and frustration. Don't you think it's vital to get it right? Just because we've been communicating since we were in our mother's wombs you think you know how to communicate.
This book will show you where you're getting it right and where you're missing the mark. You will learn the seven most common and most damaging communication mistakes that lead to endless workplace drama, toxic work environments, low accountability, poor attitudes and poor performance individually and organizationally. These communication mistakes are at the core of your employee retention issues, if you are struggling with them in this low unemployment economy.