Complete Story

10/11/2019
024 Max Out Margins with Strategic Pricing
Presenter: Steve Deist
Date: Monday, March 9, 2020

Time: 1:00-4:30 pm

Level of Complexity: Intermediate
Course Description: Better pricing is one of the fastest ways to put more money on the bottom line. But…pricing changes can be complex and risky. This course outlines the steps to build a world-class pricing course that will grow profit while managing short- and long-term risk.
Learning Objectives:
Analyze current pricing patterns to find the areas of greatest opportunity – help you understand where to start
Understand how more pricing software works and whether they may be a good fit for your company
Develop measurement tools and feedback loops for continuous margin improvement
Learn specific pricing tactics and can improve your bottom line quickly
Steve is the Chief Operating Officer for Ewing Irrigation and Landscape Supply, a distributor with over 220 branches nationwide. He is also a Partner with Indian River Consulting Group. He has over 25 years of experience in distribution strategy, marketing channels, sales, operations and leadership. He is a published author, a highly rated speaker, a faculty member at the University of Innovative Distribution and serves on the boards of three large distribution companies.
---
Bookstore
Tim Horan, Steve Deist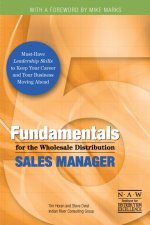 This book, by Tim Horan and Steve Deist, offers a practical but powerful approach for taking your sales force to the next level. It includes key concepts, practical ideas, and real-world stories taken from the front lines of wholesale distribution. This book will give you the essential leadership skills to keep your career and your business moving ahead and performing at higher levels.