Complete Story

10/12/2021
034. Every Sales YES Begins With a KNOW:  Web search secrets to find the right opportunities, the right decision makers, at the right time, with the right message
Presenter: Sam Richter
Level of Complexity: Intermediate
8:00 AM - 11:30 AM
In a prospect or client meeting, do you talk mainly about you and your organization? Or is the conversation focused on the other person and what he or she cares about? Do you make your prospects and clients feel important? Are you relevant? It's no longer enough to be interesting. In today's world you need to be interested. In this dynamic presentation, you will discover ways to find online information (that 99% of people have no clue how to do) and apply it to immediately grow your business. The Evolution of Sales is not a new sales process; don't worry, you're not starting over. Rather, it's an evolution of how to use a powerful set of online search resources to identify opportunities and approach prospects in ways where your message is welcomed and appreciated, in any economic environment.
All attendees receive complimentary Intel Engine (www.intelngin.com) access making it easy to practice what you learn.
---
Bookstore
Mary C. Kelly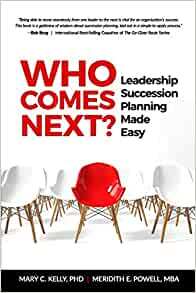 Leaders leave. It's inevitable. It might even happen today. Are you prepared?
Every organization needs a plan for leadership succession, but few leaders know how to start the process. WHO COMES NEXT? solves that problem and easily guides you through the steps of creating and implementing a viable succession plan.

This essential guidebook simplifies the process and gives you the tools you need to build and activate your leadership succession. You'll find a comprehensive action plan, a library of all the tools needed to develop and sustain your plan, and a resource guide. You'll learn how to:

Communicate with customers about the change
Identify talent gaps in your succession plan
Decide which succession planning model to adapt
Find your next generation of leadership within your organization
Handle the unique emotional complexities of succession in a family-owned business

Whether you are part of a small, family business, a Fortune 500 company or a non-profit, you need to start now by answering the question: WHO COMES NEXT?