Complete Story

10/11/2021
021. Managing Transportation in Global Supply Chains & Reducing Landed Costs
Instructor: Tom Cook (New to UID)
Level of Complexity: Foundational
8:00 AM - 11:30 AM
The pandemic has created great disruption in global supply chains in the form of delays, cost, shortages, and capacity. Thomas Cook will offer guidance and strategy on mitigating options for the issues. The course spans a range of steps that can be taken to reduce landed costs and make for more competitive opportunities in supply chain management, including a deeper dive on specific strategies such as the implementation of Foreign Trade Zones.
---
Bookstore
Mary C. Kelly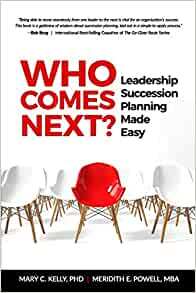 Leaders leave. It's inevitable. It might even happen today. Are you prepared?
Every organization needs a plan for leadership succession, but few leaders know how to start the process. WHO COMES NEXT? solves that problem and easily guides you through the steps of creating and implementing a viable succession plan.

This essential guidebook simplifies the process and gives you the tools you need to build and activate your leadership succession. You'll find a comprehensive action plan, a library of all the tools needed to develop and sustain your plan, and a resource guide. You'll learn how to:

Communicate with customers about the change
Identify talent gaps in your succession plan
Decide which succession planning model to adapt
Find your next generation of leadership within your organization
Handle the unique emotional complexities of succession in a family-owned business

Whether you are part of a small, family business, a Fortune 500 company or a non-profit, you need to start now by answering the question: WHO COMES NEXT?