Complete Story

10/05/2021
009. Marketing in a Multi-Channel World
Instructor: Steve Deist
Level of Complexity: Advanced
1:00 PM - 4:30 PM
This course covers the fundamentals of strategic marketing and shows how to leverage them in the age of digital channels. Many distributors are caught up in the technology race but lack a market-based strategy to ensure that their investments pay off. In this course you will learn how to use data and customer insight to deliver the right value propositions to the right customers, using the right channels.
We start with the foundation of great marketing: segmentation, targeting and positioning (STP). We show how to assess investment opportunities based on cost to grow and potential to grow. This leads to the creation of customer-centric value propositions based on both business needs and emotional drivers. We then show how to develop specific action plans to deliver on the value propositions. This involves a market gap analysis, where we examine the customer journey and identify the biggest opportunities for connecting with and engaging target customers. We cover the importance of effective branding and show how to connect your style guide to your strategy. The course includes a review of common sales and marketing channels, and how to select the right ones.
The content is based on the instructor's extensive experience with world-class distributors and manufacturers. It includes individual exercises and a workbook to help students relate each topic to their own situation as we go. The workbook also contains supplemental material for ongoing self-study.
---
Bookstore
Mike Marks and Mike Emerson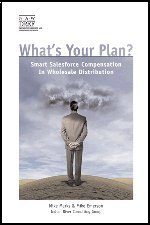 According to authors Mike Marks and Mike Emerson in their book, What's Your Plan? Smart Salesforce Compensation in Wholesale Distribution, there is absolutely no relationship between your sales incentive plan and your likely gain or loss in market share.