Complete Story

10/11/2019
006 The Successful Manager's Communication Toolkit (Full)
Presenter: Linda Larsen
Date: Sunday, March 8, 2020

Time: 8:00-11:30 am

Level of Complexity: Intermediate
Course Description: This fast-paced content-rich workshop focuses on how to build meaningful, mutually beneficial relationships by the continued improvement of how you communicate - verbally, non-verbally, via email, telephone and, of course, face-to-face. This holistic approach will help you build a team comprised of individuals who are equipped with the mindset and the skillset they need in order to be highly productive, quickly solve problems and provide stellar customer service. You will leave with tools to help you be a more effective listener, ask for a behavior change, give constructive feedback, and communicate more effectively.
Learning Objectives:
Examine the elements of effective listening, model the process, and identify the common barriers to effective listening
Evaluate various "exit lines" that allow you to postpone a confrontation until emotions are in check.
Contrast effective and ineffective ways to give constructive feedback to someone
Distinguish between the three types of learning styles
Linda is one of only 232 people world- wide to be inducted into the Speaker Hall of Fame®, joining such notables as General Colin Powell, President Ronald Reagan and Brian Tracy. She has been a featured presenter for over 1,000 conferences and meetings worldwide for groups such as Jaguar Cars, the Kuwait Women's Leadership Summit and McDonalds.
---
Bookstore
F. Barry Lawrence, Ph.D., Senthil Gunasekaran, Pradip Krishnadevarajan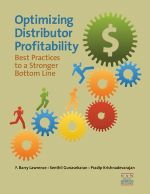 There are 47 best practices in Optimizing Distributor Profitability: Best Practices to a Stronger Bottom Line and all were developed from actual experiences of 84 real wholesale distribution firms across our industry. This groundbreaking research study is not academic modeling or theory; it is a powerful weapon for you to use to enhance your shareholder value.