University of Innovative Distribution
Save the date for the 2015 UID! March 8-11, 2015
Be Notified When 2015 Registration Opens
UID becomes University of Innovative Distribution
The University of Industrial Distribution (UID), a renowned educational program focused on serving the unique needs of the wholesale distribution industry, announced today that it has officially changed its name to the University of Innovative Distribution (UID). Founded in 1994, UID is sponsored and managed by thirty five leading industry trade associations and has served over 9,000 attendees in its 21 year history. Read more
---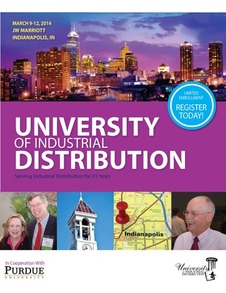 The 2014 University of Industrial Distribution was held March 9-12 at the lovely JW Marriott Indianapolis. This year drew the highest attendance in UID's 20-year history, with 575 attendees participating. A few other records were set at this year's program:
133 people were attending a second or third UID, which means 442 people were first-timers!
87 people attended from manufacturing firms
474 attendees were with distributor firms
2014 marks the UID's second year at the JW Marriott Indianapolis. Attendees made full use of the hotel and got together Sunday, March 9 for a Welcome Happy Hour at the High Velocity Sports Bar. This new reception venue allowed for great networking. Many people wore their favorite team hats, jerseys or t-shirts, which made for easy icebreaker conversation.
Since its inception, every instructor and course offered at UID has been evaluated by attendees in order to ensure the continued excellence of the program.
Be sure to Save the Date for next year's UID program, scheduled for March 8-11, 2015 at the JW Marriott Indianapolis. Registration will open in the Fall of 2014.
---
The University of Innovative Distribution is a concentrated educational program focused on the unique needs of the Innovative wholesale distribution industry. 2014 marks the 21st year that UID has been serving the distribution industry. Known worldwide for excellence in education, UID is sponsored by the leading Innovative distribution professional associations, in cooperation with the Innovative Distribution Program of Purdue University. Working together, these groups take great pride in providing a superior learning experience.
Purdue Certificate in Innovative Distribution
At the conclusion of the program, all attendees will receive, via mail, an official Letter of Completion issued by the Purdue University awarding 30 hours (3 CEUs – Continuing Education Units) for satisfactory completion of this four-day UID program. These CEUs may be applied toward your Professional Certificate in Innovative Distribution. As an Innovative distribution professional, the Purdue University Certificate recognizes your achievements and commitment to continuing education. The certificate is awarded upon completion of 90 hours (9 CEUs) of approved course work. A minimum of 30 hours must be earned through UID course participation. Additional credits may be derived from courses taken independently or through your trade association. Contact Dr. Kathy Newton, Department Chair, Innovative Distribution Program, at kanewton@purdue.edu for more information.